Music Matters: New Study Confirms Consumers Eat, Drink & Spend More
Date posted
April 24, 2023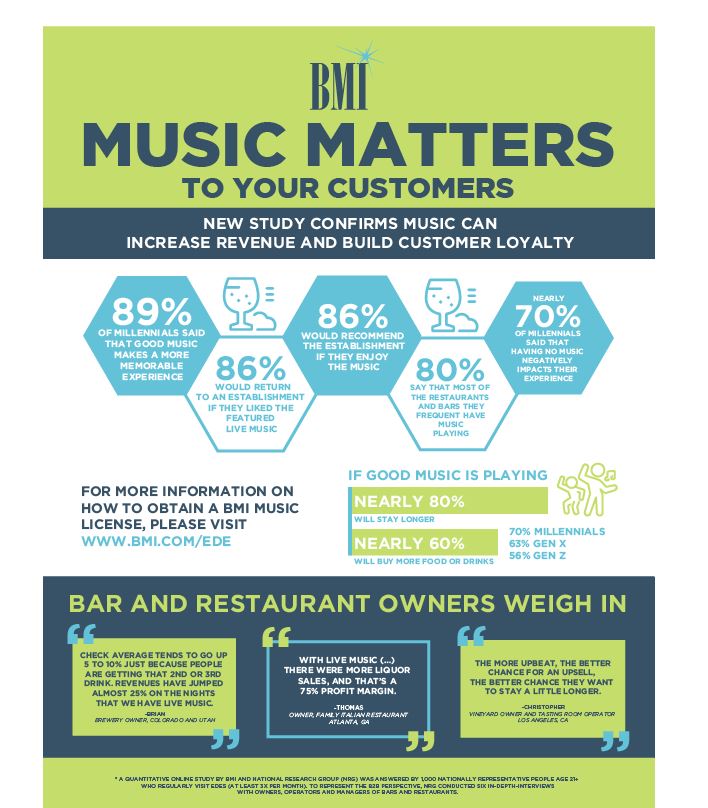 (New York, NY- April 24, 2023) A recent study by BMI (Broadcast Music, Inc.) and NRG (National Research Group) confirms that music positively impacts the way consumers interact with local eating and drinking establishments. According to the findings, bars and restaurants that feature live music have customers who eat, drink and spend more when listening to music they enjoy, resulting in higher revenues for many business owners.
Out of the 1,000 nationally represented U.S. consumers1 surveyed across age demographics 21+, atmosphere and music are a big part of what keeps them returning to the establishments that they frequent. When taking a closer look at the data, specifically the responses of Millennials, music is the second most important feature they consider when selecting a bar or restaurant. In fact, it's something they actively seek with more than half of respondents reporting that they often check the establishment's website to see if they have live music before choosing where to go.
Music not only drives consumer traffic, but it also has the potential to increase revenue. The survey found that nearly 80% would stay longer if good music was playing, with close to 60% stating that they would buy more food and drinks to continue listening to music that they enjoy. That stat is even higher for Millennials at 70%.
Other findings show that music makes memories, and it has the potential to make or break the customer experience. Eighty-six percent of all those surveyed said that good music at a bar or restaurant creates a more memorable experience, with 89% of Millennials agreeing. Across the board, the younger generations show that music is an important part of the dining experience, with 84% of Gen Z and Millennials noting they are more likely to stay at a bar or restaurant with good music. If the music isn't right, however, one out of two patrons said they would leave an establishment.
Live music also has very tangible benefits for consumers and businesses by creating ambiance and bringing people together while helping bars and restaurant owners differentiate themselves from competitors. Eighty-two percent said that their experience is more enjoyable with live music and noted that the type of music played tells a lot about the establishment, including helping to establish its brand. People were also more likely to wait for a table and grab a drink at the bar if live music was playing to keep them entertained with 81% of those surveyed saying they'd wait 20 minutes. That number rose to 87% when you just look at how Millennials responded, and 80% of that demographic would also pay for a two-drink minimum to hear live music.
In addition to consumers, restaurant owners and managers were also interviewed, sharing that they saw a clear boost in revenue on the nights that featured live music. An owner with breweries in Colorado and Utah confirmed that customers stay longer and spend more money when a band or DJ performs, commenting, "check averages tend to go up 5-10% … and revenues have jumped almost 25% on the nights that we have live music." The owner of a family Italian restaurant in Atlanta, GA agreed, noting, "Without the [live] music we didn't have the linger time, we would close sometimes at 9 o'clock. With the live music, we could push one o'clock in a bedroom community. There were more liquor sales, and that's a 75% profit margin."
For the complete consumer survey, click here and for more information on how to obtain a BMI music license please visit www.bmi.com/ede.

1 A quantitative online survey among 1,000 nationally representative people age 21+ who regularly visit EDEs (at least 3x per month). To represent the B2B perspective, NRG conducted six in-depth-interviews with owners, operators and managers of bars and restaurants.
Celebrating over 80 years of service to songwriters, composers, music publishers and businesses, Broadcast Music, Inc.® (BMI®) is a global leader in music rights management, serving as an advocate for the value of music. BMI represents the public performance rights in over 20.6 million musical works created and owned by more than 1.3 million songwriters, composers, and music publishers. The Company negotiates music license agreements and distributes the fees it generates as royalties to its affiliated writers and publishers when their songs are performed in public. In 1939, BMI created a groundbreaking open-door policy becoming the only performing rights organization to welcome and represent the creators of blues, jazz, country, and American roots music. Today, the musical compositions in BMI's repertoire, from chart toppers to perennial favorites, span all genres of music and are consistently among the most-performed hits of the year. For additional information and the latest BMI news, visit bmi.com, follow us on Twitter and Instagram @BMI or stay connected through Broadcast Music, Inc.'s Facebook page. Sign up for BMI's The Weekly™ and receive our e-newsletter every week to stay up to date on all things music.