Indiana ProStart
A nationwide, two-year program for high school students that develops their talent into tomorrow's restaurant and foodservice industry leaders.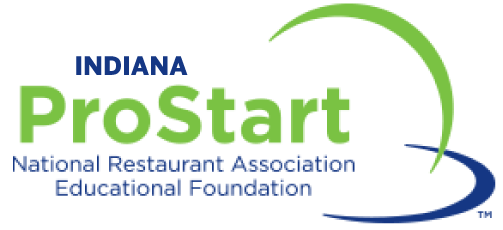 Indiana ProStart® Program?
ProStart's industry-driven curriculum provides real-world educational opportunities and practical skills to open doors for fulfilling careers in the restaurant and foodservice industry. The curriculum teaches all facet of the industry, as well as provides students with on-the-job experiences where they can apply their classroom knowledge in real world situations.
Who are ProStart students and educators?
ProStart serves all types of communities, from rural to inner-city schools to Department of Defense schools around the world. Students take it as an elective track in traditional high schools, career & technical centers and vocational high schools. Educators range from family and consumer science educators to chefs who transitioned from the industry to the classroom.
What is the ProStart Certificate of Achievement?
The ProStart Certificate of Achievement is the culmination of the program. Students must complete the program, pass two national exams and complete 400 hours of mentored work experience to earn the certificate. It is linked to scholarship opportunities and articulation benefits at more than 60 of the country's leading hospitality and culinary arts colleges and universities.
What is the National ProStart Invitational®?
The National ProStart Invitational, held each spring, showcases the talent of the top ProStart students as they compete in culinary and management events. Annually, more than $1 million in scholarships are awarded to the top five teams in both events from NRAEF and attending colleges.
Culinary teams have 60 minutes to prepare a three-course meal using only two butane burners, while also competing in knife skills and poultry fabrication.
Management teams develop an original restaurant concept and apply critical thinking skills to challenges managers face in day-to-day operations.
How do I get involved?
Sponsor Indiana ProStart. Hire program students and graduates. Sponsor a class by guest lecturing or hosting a field trip. Act as a mentor. These are just a few ways you can participate. Click here to contact Sarah Olivero for more ways you can participate in Indiana ProStart.
Indiana's ProStart Coordinator:
Alyson McIntyre-Reiger