Back to Events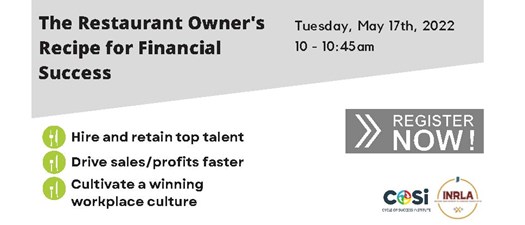 Webinar: The Restaurant Owner's Recipe for Financial Success
Tuesday, May 17 • 10 a.m. ET
Presented by Cycle of Success Institute
Tuesday, May 17, 2022
10:00 AM - 10:45 AM (EDT)
Event Details
The Restaurant Owner's Recipe for Financial Success
Presented by Cycle of Success Institute (CoSi)
Tuesday, May 17 • 10 a.m. ET
---
The fastest path to adding $1,000,000+ to your company, boosting business value for restaurant owners, distributors, and other industry professionals.

Learn how to empower your people to drive sales and profitable growth 300% faster. Learn how to cultivate a winning workplace culture of continuous improvement and innovation.

The purpose of this webinar is to provide you with simple tools that you can use to get quick wins that drive sales, efficiency, and profitability.
Register Here.