Back to Events
National Affiliate Events
National Restaurant Association Public Affairs Conference
Head to Capitol Hill with Team Indiana to meet with members of Congress.
Monday, April 25, 2022
to Wednesday, April 27, 2022
Event Details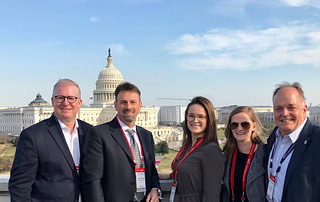 Make a difference on policy that affects your business. Join Team Indiana in Washington DC on April 25-27, 2022 for the National Restaurant Association Public Affairs Conference and be part of the industry's largest grassroots lobbying event. In additional to meeting with lawmakers on Capitol Hill, conference attendees will hear from top political speakers and celebrate the industry at networking events.
Register before Feb 1 to receive 50% off!
Click here to register on the NRA website.
Once registered, reach out to Sarah at solivero@tammcapitalgroup.com to coordinate with Team Indiana.